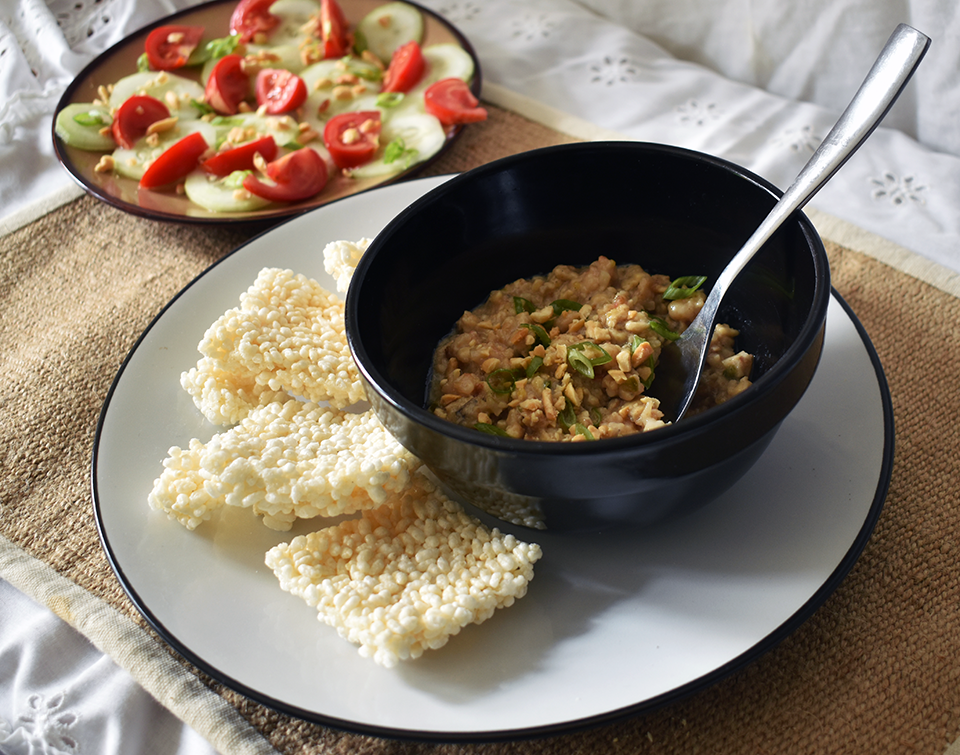 When I was a kid, there was a pan-Asian restaurant that my family would go to for special-occasion meals. My favorite thing to order there was the natang: Ground pork and shrimp in a coconut broth spiked with peanuts, fish sauce, lime, garlic, cilantro root and palm sugar for sweetness. A soup spoon was provided to ladle heaps of the runny mixture into lettuce cups or onto crispy square rice cakes. Salty, sweet, savory, and funky, it was a magical dish. As I got older, whenever natang was on a menu it was guaranteed to be part of my order. Recently, I decided to try to recreate it at home but found that only two of the few Cambodian cookbooks out there (I'd love for someone to write one!) had any mention of this dish. The internet proved more fruitful, and the recipe below was developed based on a few I found online. I kept the shrimp but substituted tempeh for the traditional pork; the tempeh's crumbly texture and earthy flavor stand up nicely to the rich flavors at play here.
Note: The crispy rice cakes used here are worlds away from the Quaker oat kind; If you can get your hands on them, it's well worth it. If not, serving the natang over rice is perfectly acceptable and equally delicious.
INGREDIENTS
3 Tbsp coconut or canola oil, divided
1/2 pound shell-on Gulf shrimp, peeled (reserve the shells) and finely chopped
1 can coconut milk
3 cloves garlic
1 Tbsp cilantro stems, chopped
1 small jalapeno or habanero chili, seeded, de-veined and roughly chopped
1 block tempeh, grated on a large-hole cheesegrater
2 small shallots, thinly sliced
3 Tbsp fish sauce
1/3 cup roasted peanuts, ground (I use a spice grinder for this), plus more for serving
2 Tbsp brown sugar or grated palm sugar if you can find it
1/4 tsp white pepper
1/3 cup water
2 Tbsp lime juice (about the juice of 1 lime)
chopped cilantro or thinly sliced scallions for serving
Sambal for serving
Crispy rice cakes or rice for serving
INSTRUCTIONS
Heat 1 Tbsp oil a large, deep skillet over medium heat. Add the shrimp shells and cook for a few minutes, until pink and fragrant.
Add the coconut milk and let simmer on low heat for 5 minutes, stirring occasionally. Strain into a heat-proof bowl and set aside. Wipe skillet and return to burner.
Use a mortar and pestle to mash the garlic, cilantro stems and chili into a rough paste (or use a food processor). Set aside.
Heat 2 Tbsp oil in skillet and add grated tempeh and shallots. Stir occasionally, until tempeh is slightly browned and heated through and shallots are translucent.
Add the ground shrimp, and the garlic mixture and cook until fragrant, about 2 minutes.
Add coconut milk, fish sauce, ground peanuts, brown sugar and white pepper and stir. Bring to a simmer over medium-low heat and cook for 5 minutes.
Turn off heat and stir in the lime juice. Serve in a bowl with rice cakes and sambal, and peanuts, cilantro and scallions for topping.