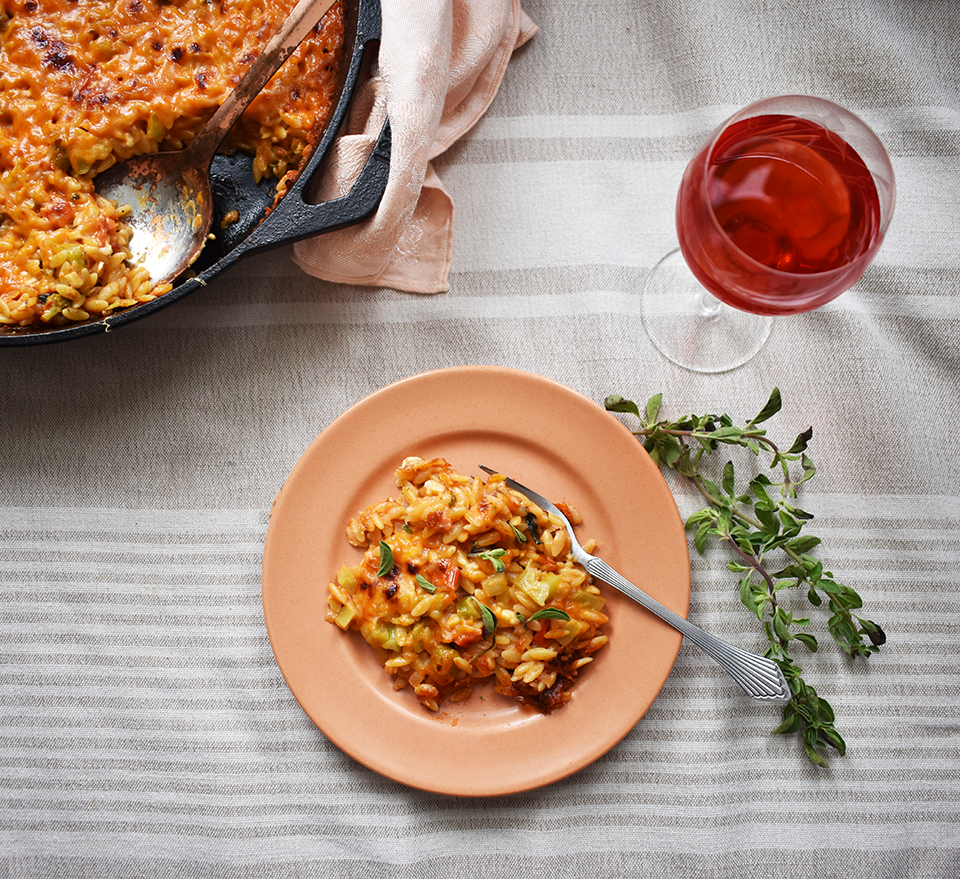 Last summer, I became obsessed with feta cheese. This is big for me, because as a child I found it too salty and avoided it along with any form of olive. Maybe I have a salt deficiency now, or maybe my taste buds have dulled a bit, but feta went from "bad" to "delicious." Paired with its longtime companion watermelon, and it's truly a delight. But though I went through A LOT of feta this summer, it was almost always fresh out of the container. I'd never really thought to cook it until seeing a popular recipe from the New York Times that suggested doing so. The recipe, Sheet Pan Baked Feta With Broccolini, Tomatoes, and Lemon, claimed that feta, when baked, "gains an almost creamy texture, similar to goat cheese but with feta's characteristic tang." Well, that sounded delicious. After demolishing a plate of gooey baked feta and roasted veg served over buttered orzo, I thought, why not combine everything together in one cheesy, tomatoey bake? The results were a delight, with that creamy, saline feta flavor in each bite. This is lovely served on a cold, dreary day. 
INGREDIENTS
1 Tbsp butter

1 Tbsp olive oil 

1 small onion, chopped

1 head broccoli, cut into bite-sized pieces

½ pint cherry tomatoes, cut in half 

1 clove garlic, minced or grated

1 ¾ cup orzo 

1 tsp cumin 

2 tsp salt

1 tsp pepper

½ cup crushed tomatoes

1 ½ cups chicken stock

½ cup white wine 

1 cup water

½ cup heavy cream

1 tsp lemon zest

1 Tbsp lemon juice

1 tbsp fresh oregano, finely chopped

1 cup feta cheese, crumbled 

1 cup parmesan, grated, divided into ½ cup and ½ cup 

½ cup finely shredded mozzarella 
INSTRUCTIONS
Preheat oven to 425 with rack in upper third of oven. 

Heat olive oil and butter in a cast iron pan or other oven-safe pan over medium heat. (Alternatively, you can cook the filling in a heavy-bottomed pot like a Dutch oven and then scrape it into a shallow baking dish before cooking in the oven.) 

Add onions and broccoli and sauté until onions are soft and translucent, about 5 minutes. Add garlic, orzo, cherry tomatoes, cumin, salt and pepper. Stir, and cook for 3 minutes, until cherry tomatoes start to soften. 
Add crushed tomatoes, chicken stock, white wine and water, and bring to a boil over medium high heat, stirring constantly to prevent sticking. Cook for about 8 minutes, or until orzo is al dente (take care not to overcook, since you will be cooking the mixture further in the oven.) 

Remove pan from heat and stir in heavy cream, lemon zest, lemon juice, oregano, feta cheese, and ½ cup of parmesan. Scatter the remaining parmesan and the mozzarella on top and place in the oven. 

Bake for 15 minutes, then broil for 2 to 3 minutes. Remove from oven and let cool for 5 minute. Serve.