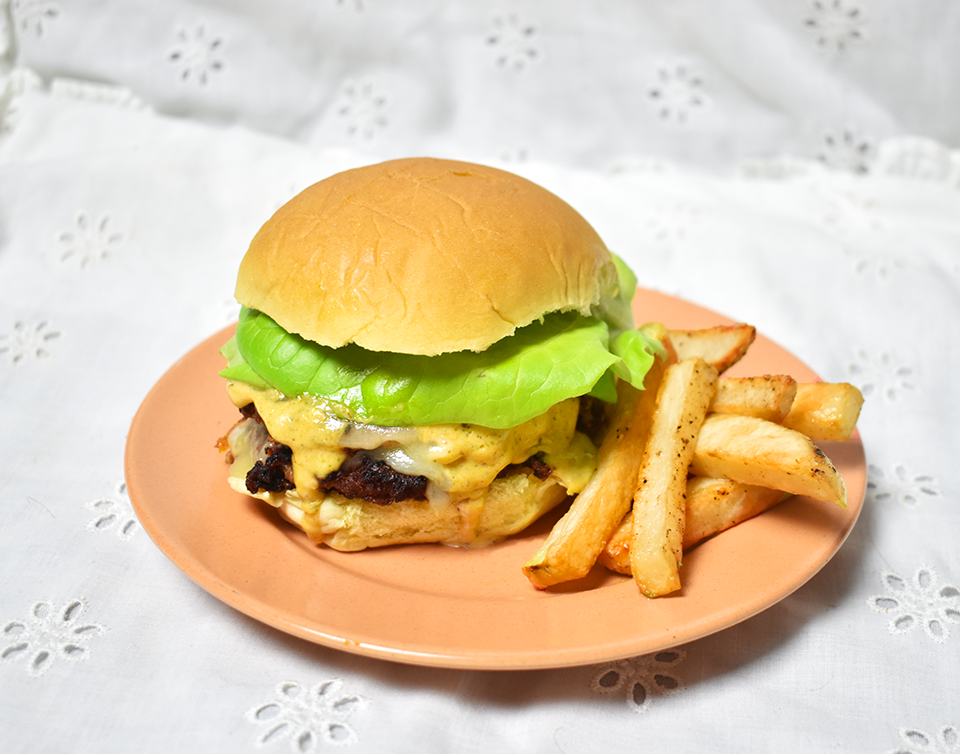 Go to any Portuguese restaurant in New England and you will probably see chicken or shrimp Mozambique in the entree section of the menu. Chicken/shrimp Mozambique, in its simplest form, is protein cooked in Mozambique sauce, which is a beer or wine-based sauce flavored with garlic, oregano, cumin, coriander, lemon, and Portuguese pepper puree. Think shrimp scampi, but with a kick. I wanted to add this most Portuguese-American of sauces to my chourico turkey burger in some form, and mayo proved to be the perfect vehicle to do so. The result is garlicky, bright with lemon, and intensely flavorful. On the burger side of things, chourico adds spice and texture to a ground turkey patty, and cheddar cheese brings sharpness and umami. Some of the cheddar is shredded and included in the burger mixture, which helps keep it moist and contributes to its chewy, crispy edges. Don't be afraid to really smash the burgers; the flatter they are, the crispier and crustier they get. Cap it off with a piece of butter lettuce for color if you want, but it's wholly optional. 
INGREDIENTS
For the Mozambique Mayo:
1 egg
½ tsp annatto (sub in paprika if you can't find)
½ tsp ground coriander
½ tsp ground cumin
½ tsp dried oregano
2 Tbsp fresh cilantro, chopped
1 Tbsp Portuguese pepper puree (if using the hot Italian kind, reduce to 1 tsp)
1 small garlic clove, roughly chopped
1 Tbsp Dijon
1 tsp white wine vinegar
1 tsp lemon juice
1 tsp kosher salt
½ tsp black pepper
1 cup canola oil
For the burgers:
1 link (turkey) chourico, casing removed, chopped into rough chunks
½ cup cheddar, shredded, plus thin slices for topping
¼ cup cilantro leaves, chopped
1 small shallot, minced
1 Tbsp Mozambique mayo
1 tsp kosher salt
½ tsp pepper
1 lb ground turkey
2 Tbsp canola oil
4 potato buns
INSTRUCTIONS
First, make the mayonnaise. Use a hand-blender to blend ingredients —from egg through black pepper— in a tall, narrow container.
Slowly add the oil in a steady stream, blending as you go. The mayonnaise should thicken up but still be slightly runny. Taste for seasoning and set aside.
To make the burgers, briefly pulse chourico in a food processor until course crumbs form, about 10 pulses.
Mix chourico, ground turkey, shredded cheddar, cilantro, shallot, mayo, salt, and pepper together with a wooden spoon, making sure to integrate ingredients fully.
Divide into nine 3 oz balls and place on a sheet tray lined with parchment paper. Refrigerate for 30 minutes.
When there's a few minutes left of refrigeration time, heat cast iron or stainless steel skillet over medium heat for 1 minute. Add oil.
Coat a spatula with nonstick spray and carefully place 2 balls on hot skillet, with room for flattening. Using spatula, press down on balls to form patties about ½ inch thick. Cook, undisturbed, for 4 minutes.
After 4 minutes, flip and cook for 3 more minutes, then place sliced cheddar on top of patties. Cover and cook for 1 minute. Continue with remaining patties, or freeze and save for later.
To serve, spread Mozambique mayo on a warmed potato bun, top with one or two patties, and cap it off with a piece of butter lettuce if desired. Serve with french fries and more mayo for dipping.