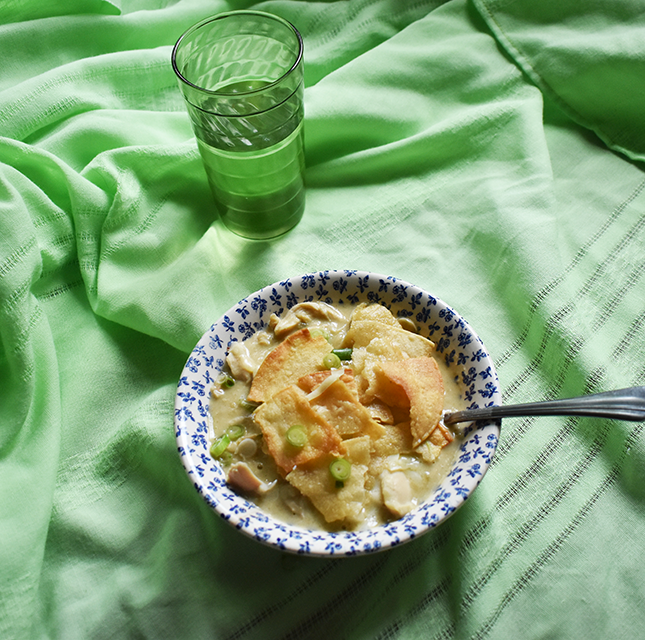 White chicken chili might not catch your attention. It's not a particularly sexy dish and is more Taste of Home than Bon Appetit if you know what I mean. But it doesn't have to be. This version takes the premise— cannellini beans plus chicken— and adds tomatillos, lime juice and jalapenos, sweet corn and a dab of cream cheese for tang and richness. It's warming. It's bright. And it's even more delicious with homemade tortilla chips, chunks of avocado and shredded cheddar cheese scattered on top. I've never seen John grin as big as he did after a bite of this chili. I hope it will make you smile, too.
INGREDIENTS
6 tomatillos, husks removed
1 onion, peeled and roughly chopped
3 jalapenos (2 seeded and roughly chopped, 1 seeded and finely chopped)
1 Tbsp olive oil
3 cloves garlic, minced
1 Tbsp cumin
1/2 Tbsp chili powder
1/2 Tbsp oregano
2 cans cannellini beans (no need to rinse; the bean liquid helps thicken the chili)
2 cups of chicken stock (preferably homemade)
1 tsp Kosher salt, plus more to taste
1 tsp black pepper, plus more to taste
2 ounces cream cheese
1 rotisserie chicken, meat removed and shredded
2 ears of corn, kernels removed
Juice of one lime, plus wedges for serving
FOR SERVING
Avocado, chopped
Tortilla chips (homemade is really good and really easy: Just tear or cut corn tortillas into pieces, then fry in canola oil until golden)
Cheddar cheese, shredded
Scallions, thinly sliced
Cholula's hot sauce
INSTRUCTIONS
Peel and quarter tomatillos.
Combine chopped tomatillos, 2 roughly chopped jalapenos and onion in a blender. Blend until a smooth, salsa-like consistency.
Heat 1 Tbsp of olive oil over medium heat in a heavy bottom pot (I like to use my Dutch oven for this). Carefully add the tomatillo mixture (it may splatter), garlic, cumin, chili powder, oregano, salt and pepper and cook, stirring, until fragrant and slightly darkened, about 3 minutes.
Add beans, cream cheese and chicken stock. Bring to a simmer, then using a handheld blender, puree a little bit of the mixture, leaving a good amount of beans whole. If you don't have a handheld blender, ladle 2 cups of soup into a blender and puree, then return to pot.
Add shredded chicken, corn kernels and finely chopped jalapeno and let simmer for 5 minutes. Add lime juice, taste for seasoning and add more salt as desired.
Serve with tortilla chips, shredded cheddar, avocado, scallions and a few dashes of Cholula's. Really good washed down with a sherry-tequila margarita (recipe coming!).