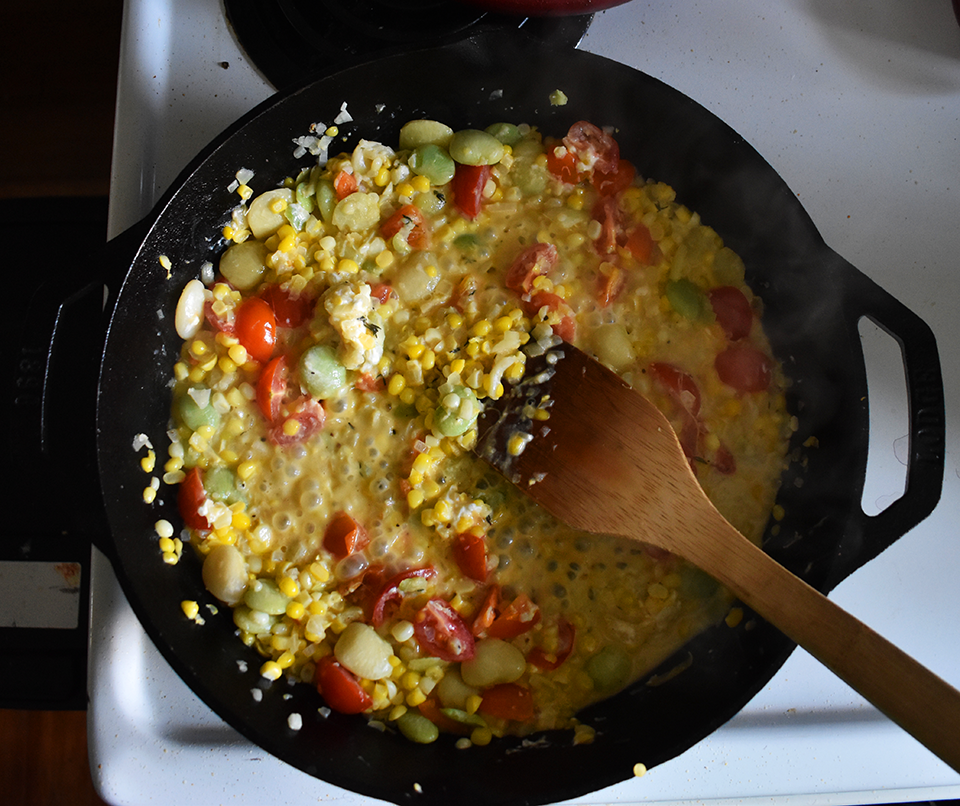 As a kid, succotash was always a simple reminder that summer was here. My mom would slice some kernels of corn off the cob, throw in some frozen lima beans, and microwave it all with a dab of butter, salt and pepper. It was a humble side dish, but I loved the sweet pops of corn and the creamy, vegetal flavor of the green limas. It was the taste of summer.
Succotash has its origins in Native American cooking, where beans, corn and squash (known as the three sisters) were treasured. The three sisters sustained and provided for the Indigenous peoples, growing in symbiotic harmony across the Americas. The word succotash comes from the Narragansett term misckquatash, meaning "boiled whole kernels of corn. When pilgrims adopted the dish and its name, they used it to describe a mixture of corn and green beans (usually Lima's).
This version is spiffed up from the simple side of my childhood and includes summer tomatoes, thyme, and goat cheese for tang. It's both simple and luxurious—and is a wonderful accompaniment to seared scallops or fish.
SUCCOTASH WITH GOAT CHEESE
INGREDIENTS
Serves 2 to 3 people
1 Tbsp olive oil
1 Tbsp butter
1 small onion, finely chopped
2 cloves garlic, minced
4 sprigs thyme, leaves removed
1 cup frozen lima beans or fava beans
2 cobs of corn, top of kernels sliced off and then cob scraped with back of knife (this gets the 'cream' from the corn)
1 cup cherry or grape tomatoes, quartered
3 oz goat cheese
1/4 cup cream or milk
1/2 tsp Kosher salt
generous pinch of black pepper
Heat the butter and olive oil in a skillet over medium heat. Add the onion, garlic and thyme and saute until onion is translucent.
Add the frozen lima beans and stir, cooking for 3 minutes, or until mostly thawed.
Add the corn and tomatoes and cook for 3 minutes, until corn is golden and tomatoes start to soften. Add the goat cheese and cream or milk and stir to combine. You want the goat cheese to melt into the mixture.
Season with salt and pepper, stir, then serve warm.