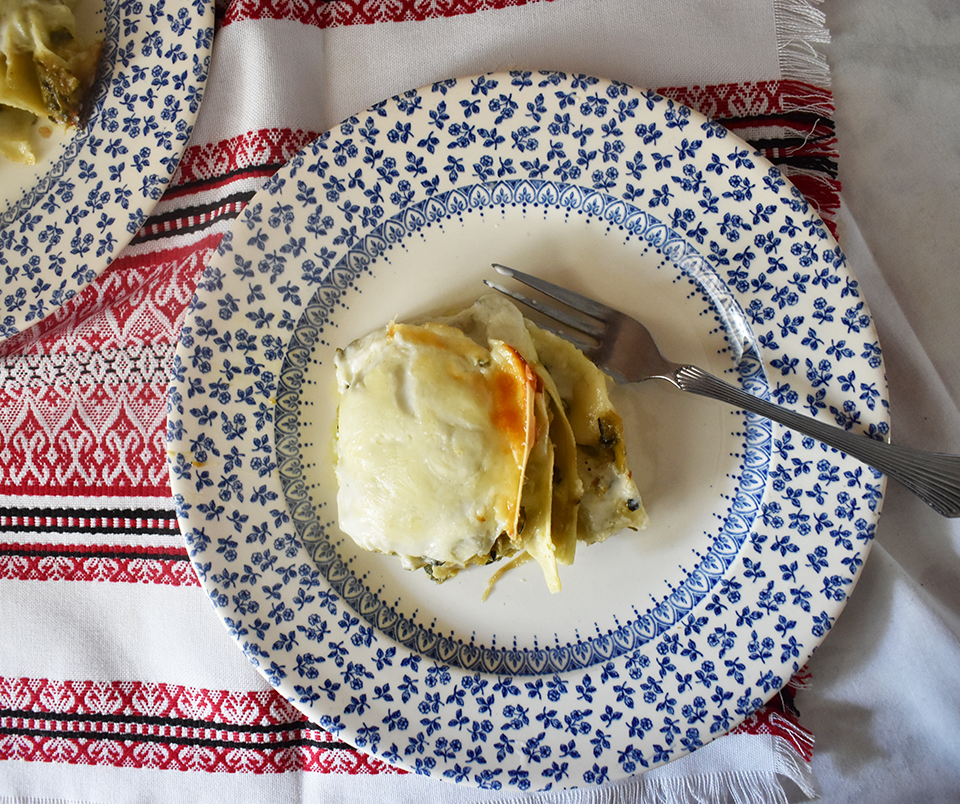 This dish can be made two ways: the easy way, and the wind-up-cursing-your-ambition-on-an-unbearably-hot-summer-day way. I chose the latter, but for your sake, I've included instructions for people who aren't masochists. Oh, and the final result is decadent either way. The recipe for the squash an onion marmalade can be found here. 
Serves 4. * Bechamel adapted from Serious Eats
INGREDIENTS 
2 cups squash and onion marmalade (I recommend making this in advance or you'll have lots of dishes to do :P)
4 Tbsp butter
4 Tbsp all-purpose flour
3 c whole milk
1 ½ cups grated parmesan divided into 1 cup and ½ cup  
1 tsp salt
1 tsp pepper
1/8 tsp nutmeg
1 box no boil lasagna noodles OR one recipe for homemade lasagna noodles (see below)
4 ounces shredded low-moisture mozzarella
LASAGNA NOODLES
2 cups flour
3 eggs, beaten
1 tsp salt
3 Tbsp water, plus more as needed
INSTRUCTIONS (WITH AND WITHOUT HOMEMADE NOODLES)
Place a rack in the center of your oven and heat the oven to 375.
First, we're going to make the bechamel, which sounds fancy and hard, but it actually isn't.
With a saucepan over medium heat, add butter and heat until melted. Add the flour and whisk, cooking until the paste is light brown and smells toasty. Slowly add the milk, whisking as you go until there are no clumps. Bring to a simmer and whisk until sauce starts to thicken (it should thickly coat the back of a spoon), about 5 minutes. Add salt, pepper, ½ cup parmesan and nutmeg and whisk to combine. Set aside.
(If you're feeling ambitious and decide to go the fresh pasta route, here's how to do that (if not, skip this section. P.S. You'll want a pasta roller for this, unless you have access to incredibly strong arms and a good rolling pin):
Place flour, eggs, and salt in a food processor and blend until a rough ball shape forms. If your dough looks pebbly, add 1 Tbsp of water at a time, blending until the dough comes together. Dust the counter with flour, plop your dough onto it and knead a few times to form a smooth ball. Divide into four pieces and wrap three of them separately in plastic wrap or cover with a damp towel. Take one piece of dough and flatten until it's about ½ inch thick and a rectangle shape. Roll through the pasta machine twice. If cracks form, fold the dough in half and roll through again (continue as needed). Continue to roll dough through, adjusting the spacing in the pasta machine to get smaller as you go on, until it's about 1/8 inch thick. You may want to cut the sheet in half midway through, so you don't have dough draping onto the floor. Place finished lasagna pieces on a sheet pan lined with parchment paper and cover with a damp towel.
Right before you're ready to build your lasagna, bring a pot of salted water to a boil. Create a water bath by filling a bowl with water and adding a tray of ice cubes.
Add 2 sheets of fresh lasagna to the boiling water at a time, cook for 1 minute, then use tongs or a spider to transfer into your ice water bath. Repeat with remaining noodles. Transfer to a sheet pan lined with parchment paper and cover with a damp towel until ready to build your lasagna, then continue to the next step. (I told you it's a lot of work!))
Take a glass loaf pan and coat the bottom and sides with nonstick spray. Spread a thin layer of squash-onion marmalade on the bottom, then place a lasagna noodle on top (you can break it if they don't fit just right). Spread another layer of marmalade (about 1/3 cup) on the lasagna noodle, then spread on ¼ cup of bechamel. Sprinkle with ¼ cup of parmesan. Repeat until you reach the top and end with the bechamel and parmesan layer. Coat the top layer with mozzarella and cover with aluminum foil. Bake for 30 minutes, then set the oven to broil. Remove the aluminum foil and cook for another 5 minutes. Let cool for 10 minutes before serving (trust me, hot cheese clinging to the roof of your mouth is no fun).
Serve with a glass of white wine, preferably something bright and light (Sauv Blanc? Chablis?) to cut through the richness.