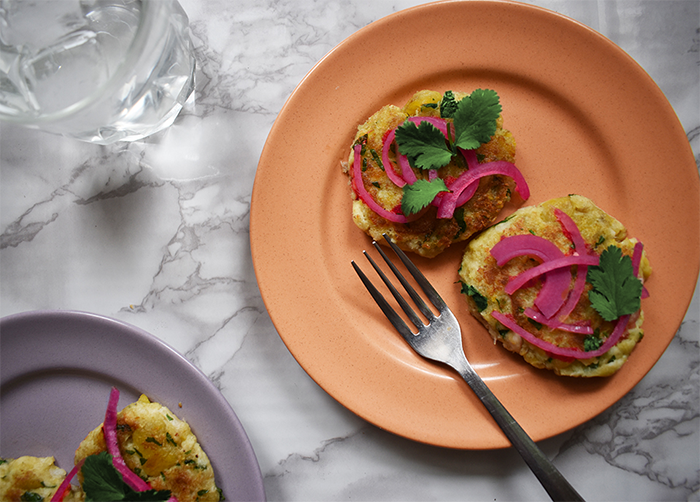 Cooking has always been a soothing activity for me. In the hardest times, days where the tears and anxieties just wouldn't stop, I'd make myself get into the kitchen and cook. Chopping vegetables, tending to things sauteeing in my well-used cast iron pan, giving a knead to some bread dough–these things take my mind off the chaos and hurt that can often overwhelm us. Enter COVID19, a pandemic that has stripped our lives down to the bare essentials: staying home, limiting contact with others, washing hands, cooking meals to nourish the body and soul. So while it may seem pointless to post a recipe during a time when the small things seem inconsequential compared to the bigger problems of the world, finding joy in the simple things is what keeps us going. Plus, as with many of my recipes, these Dominican-inspired fishcakes were born out of a desire to use up leftovers: a dinner of mashed plantains and coconut milk braised scrod (cheap, tastes just like cod) isn't exactly great on day 2, but mix the two together with some breadcrumbs and herbs, fry, and top with pickled onions and you've got a fantastic fishcake on your hands. No mashed plantains? How about mashed potatoes, the OG filler of fishcakes? How about some leftover beans? (We all know how trendy those have become these days). It's all the same, and yields equally delicious results.
INGREDIENTS
1 lb scrod
1/2 can coconut milk
2 Tbsp adobo seasoning
1 shallot, thinly sliced
3 plantains, green
3 cloves garlic, minced
1/4 cup olive oil
2 tsp adobo seasoning
1 tsp cumin
1/2 cup breadcrumbs
salt to taste
black pepper to taste
1 Tbsp oil, plus more as needed
cilantro or parsley, chopped
pickled onions for garnish
To cook the scrod:
Preheat the oven to 400 degrees. Cut scrod into four roughly equal pieces, season with a generous pinch of Kosher salt, and place in a 3-quart pyrex dish.
In a separate bowl, whisk together the coconut milk, adobo seasoning, shallots, 1 tsp salt, and black pepper.
Pour coconut milk mixture over scrod, cover with aluminum foil and bake for 10 to 14 minutes, or until thermometer inserted into thickest part of fish filets registers 145. Set aside.
To cook the mashed plantains:
Cut plantains into two-inch chunks. Remove the peel but cutting vertically along the ridges to create a seam, then peel off.
Place peeled plantain chunks in a sauce pan, cover with water and bring to a boil. Cook until very tender when poked with a fork, around 25 minutes. Drain and place in a mixing bowl.
Add the olive oil, garlic, 2 tsp adobo seasoning, and cumin and mash using potato masher or fork. Season with salt and pepper to taste.
To make the fishcakes
Shred the scrod in a bowl, taking care to remove any bones or skin. Add the mashed plantains, breadcrumbs, and chopped herbs, and mix well.
Form into patties, about 3 inches in diameter, and place on a parchment-lined sheet tray in the freezer for 10 minutes.
Meanwhile, heat 1 Tbsp oil in a skillet over medium heat.
Take the fishcakes out of the freezer and cook for about 4 minutes on each side, until golden brown.
Serve with pickled onions and fresh herbs scattered on top. Would also be delish with some chipotle sour cream.