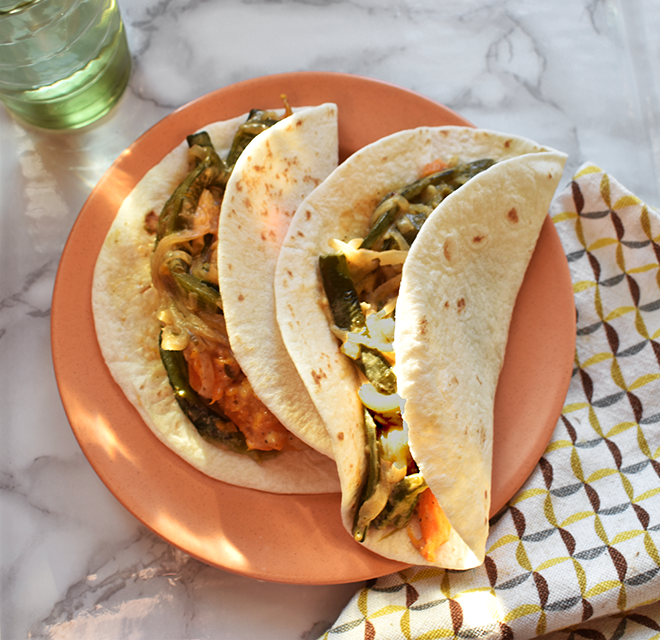 It's amazing how a turn of season can lift the spirits: What were sad, mournful days a few weeks ago have sprung into warm days tinged with the hope of spring. I find that much of what I cook is dependent on the season and the weather, and the dreary days of winter are for cozying up with creamy Scottish oats, rich stews and hearty pasta dishes. Spring, on the other hand, ushers in a new kind of cooking: timidly bright, like a crocus blooming out of the damp earth. This dish is emblematic of this timid brightness: Sweet potatoes are roasted until soft and sticky with caramel, the flesh scooped into warm flour tortillas and lazily dressed in a creamy mixture of blistered poblanos, caramelized onions, coconut milk, cumin and chili powder. Droplets of hot sauce add a kick that says, 'Wake up dear eater, summer is coming!'
SWEET POTATO RAJAS
This dish uses my "signature" creamy vegan blend of coconut milk, miso and nutritional yeast. Lime juice adds the tang that is missed from sour cream. Serves 4.
Ingredients
2 sweet potatoes, scrubbed and pricked with a sharp knife or fork
1 Tbsp coconut oil
1 large onion, cut in half and thinly sliced
2 cloves garlic, minced
3 poblano peppers
1 tsp cumin
1 tsp chili powder
1 tsp miso
1/2 tsp nutritional yeast
1/2 can coconut milk (about 1/2 cup)
1 Tbsp lime juice
1 tsp salt
1 tsp black pepper
Instructions
Preheat the oven to 425 degrees.
Wrap sweet potatoes in foil and place on a baking sheet. Cook for 1 hour or until very soft when poked with a knife. Set aside.
Once sweet potatoes are cooked, place rack 6 inches from broiler and set oven to broil.
Place poblano peppers on a sheet pan and cook for 3 to 5 minutes on each side, until skin is black and blistered.
Remove poblanos and place into a bowl. Cover with a towel and let steam for 5 minutes. After they've steamed, peel off the skin and cut flesh into 3 inch long, 1/2 inch thick strips.
Heat coconut oil in a skillet over medium heat. Add the onions and sautee until translucent and starting to turn golden.
Add the garlic, cumin, and chili powder and cook, stirring frequently, for 5 minutes.
Add the poblano strips, miso, and nutritional yeast and stir to combine.
Pour in the coconut milk and bring to a boil. Reduce heat to medium-low and simmer for 2 to 3 minutes more, until thick.
Add the lime juice, salt and pepper and stir. Add more salt as needed.
Scoop sweet potato flesh out of skin and place into coconut mixture.
Serve mixture on warm flour tortillas and sprinkle liberally with hot sauce.