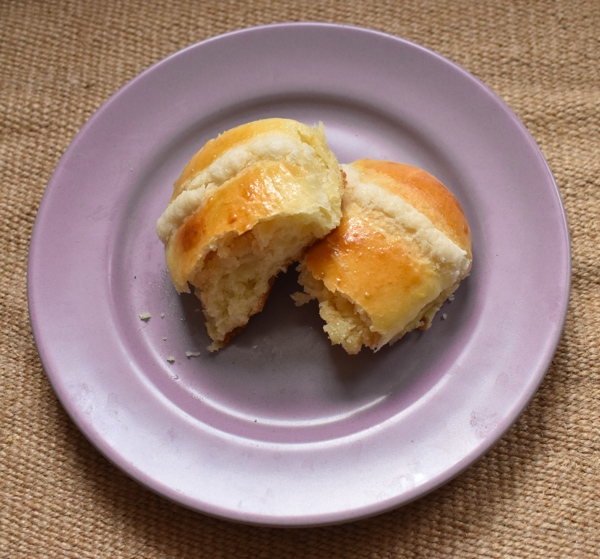 The first time I had a Chinese pastry it was at the behest of my coworker on my last day on the job. I was being let go because my company was downsizing, and my final day was a flurry of coffee and lunch dates, advice-giving and tears. As I walked through Boston's Chinatown with my boss, she asked if I'd be interested in a post-lunch snack from the Chinese bakery. While an array of shiny pastries and intricate pressed cakes caught my eye, she ordered two rather plain-looking, hot dog-shaped buns. Called cocktail buns (the Chinese name translates to 'chicken-tailed bun') are sweet bread buns filled with a salty-sweet coconut mixture. I ripped the bun in half, exposing the crumbly, shredded coconut flake filling, and ate my sorrow away with each bite. But maybe it wasn't so sorrowful since I fell in love with the salty, sweet, buttery bun. Since then, I've had many a cocktail bun; some are great, with a soft, buttery texture, others are dry like brioche left exposed overnight. The filling varies widely too, some erring on the side of too sweet, and others with barely any filling at all. I couldn't stop thinking about these buns, and after experimenting with the Asian bread-making technique known as Tangzhong, I decided to apply it to this to make the ultimate cocktail bun. The Tangzhong method takes an amount of the flour and liquid in a bread recipe and cooks it slightly before adding it to the remaining ingredients. This pudding-like mixture traps moisture and results in bread that is light, airy, buttery and doesn't harden and get crumbly as it ages. My first attempt turned out gorgeous to look at but upon first bite, the bread and filling both lacked flavor and by the next day my beautiful buns were dense, dry and overall mediocre. In my second attempt (e.g. the recipe below), I borrowed from an America's Test Kitchen basic bun recipe (which uses the Tangzhong method along with a brioche-inspired addition of butter) for my dough, adding an extra tablespoon of sugar for a more dessert-like bread, and got creative with the filling: While cake flour and milk powder are mainstays, I used sweetened coconut flakes (and toasted them for a nutty flavor), pineapple jam for a tropical sweetness, and a splash of rum. While they weren't nearly as photogenic as my prior version, what they lacked in beauty they made up in flavor and texture. These are special buns and take a bit of work to make, but they won't last long!
CHINESE COCONUT COCKTAIL BUNS
Tangzhong:
1/2 c water
2 Tbsp bread flour
Dough:
1/2 c milk
1 large egg
11 oz bread flour
1 1/2 tsp yeast
3 Tbsp sugar
4 Tbsp butter, softened and cut into 1/2 inch cubes
Filling:
4 Tbsp pineapple jam
1/2 cup sweetened shredded coconut, toasted until light brown, cooled
4 Tbsp butter, softened
2 Tbsp unrefined coconut oil
3 Tbsp cake flour
1/4 cup dried milk
1/2 tsp kosher salt
Toppings:
1/4 c cake flour
3 Tbsp butter, softened
4 tsp confectioners sugar
1 Tbsp milk
1 egg, beaten, mixed with 1 Tbsp water
1 Tbsp sugar dissolved in 1 Tbsp hot water
Make the Tangzhong by whisking together the bread flour and water in a microwave-proof bowl. Heat in the microwave for 20 seconds at a time, whisking in between, for around 80 seconds total (mixture will resemble thick pudding).
Place the Tangzhon in the bowl of a stand mixer and whisk in the milk.
Add the egg and whisk to combine.
Add the flour and yeast and using a dough hook, mix until flour is completely moistened, about 2 minutes. Let rest for 15 minutes.
Add the sugar and salt and mix on medium-low speed for 5 minutes.
Add the softened butter, one cube at a time, while mixing on medium-low speed, until butter is integrated into the dough. (Note: The dough will be very sticky; that's okay!)
Place dough into a bowl greased with cooking spray, cover with plastic wrap or a damp towel and let rest for 1 hour.
While the dough rests, prepare the filling by using a fork to mash the ingredients together until smooth. Set aside.
Take the dough and place on a lightly floured surface. Pat down to remove any air bubbles, and using your hands pat into a rectangle, roughly 8 x 9 inches.
With the short side facing you, cut the dough into four equal pieces lengthwise (around 2 inches in width). Then, cut the dough into thirds, crosswise.
Take each piece of dough and stretch into a rough rectangle, about 3 inches wide by 5-6 inches tall.
Spread about 1 Tbsp of filling mixture across the surface then (better more than less), taking one of the long sides, roll up and pinch the edge to seal. Take the two short ends and tuck them under, pinching to seal, creating a hot dog bun-like shape. Place on a sheet pan lined with parchment paper, about 1 inch apart. (Note: The dough is sticky, so they won't look like the beautiful, smooth kinds you find in the Chinese market, but I can guarantee they will taste better!)
Once all the buns are filled and rolled, cover with plastic wrap or a damp kitchen towel and let rise in a warm area for 45 minutes.
While buns rise, preheat the oven to 375 with a rack in the center, and prepare the toppings
For the decorative stripes, mix together the cake flour, butter, confectioners sugar and milk to create a paste. Place in a pastry bag or Ziploc bag with the corner cut off.
Whisk together the egg and 1 Tbsp water
Microwave the sugar with the remaining 1 Tbsp water in a microwave-safe bowl for 25 seconds, stirring to dissolve the sugar.
Once the buns are done rising, pipe on two horizontal stripes of the topping mixture on each end. Brush with the
Brush with the water-egg mixture, then bake for 20-25 minutes, or until tops are golden.
Remove from the oven and brush with the water-sugar mixture. Let cool for 5 minutes, then serve.
P.S. These are great with tea or coffee! Plus, thanks to the Tangzhong, you can heat them in the microwave for 20 seconds the next day and they will still be soft and buttery.