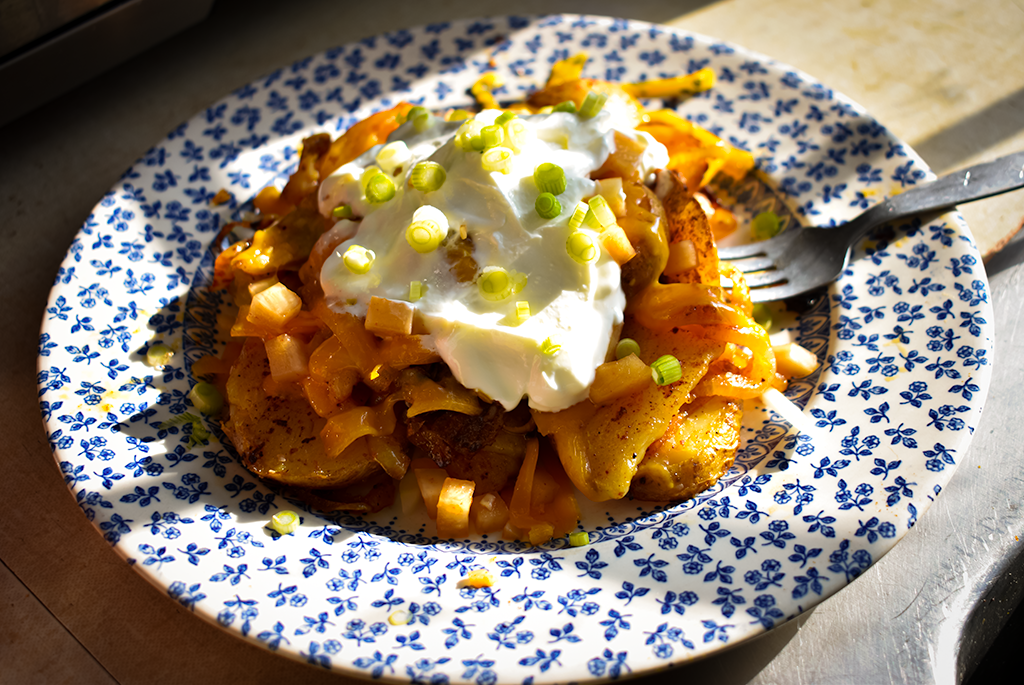 "Innovation is born of necessity" is how I could often describe my cooking. What do I do with the results of kitchen experiments wallowing in the fridge, like the daikon kimchi I made a month ago? Or the impulse-buy kohlrabi that's starting to look a bit puckered? Not to say I'm a great innovator (that realm is reserved for more worthy people in more technical fields), but these smoky potato "nachos" were one heck of a stroke of ingenuity. I'd been playing around with taking cooked potatoes and searing them in butter and onions, then serving them with some sort of pickle, sour cream or plain yogurt, and herbs/aromatics, but this might be my favorite iteration. On paper, it's a truly odd combo: crunchy kohlrabi slivers are tucked under a mess of crispy seared potatoes and caramelized onions that were cooked with a hit of paprika and a spoonful of gochujang. Topping it off is sharp cheddar, daikon kimchi, sour cream and a few scallion slices from a sad bunch in my crisper drawer. But while the combo might sound like a failed fusion experiment, IT IS SO GOOD. And so easy. The crisp, cool kohlrabi is a welcome contrast to the luxuriously smoky potatoes, sour cream provides tang, daikon kimchi gives funk, and cheddar puts it over the top. Salty, smoky, creamy, crispy, these might be your new fave "nachos." Even better? They're uber versatile: no daikon kimchi? Pickled onions or cabbage kimchi would be worthy subs. No kohlrabi? Skip it entirely or replace with shredded green cabbage. Sub plain Greek yogurt for sour cream. Skip the cheese for a healthier option, sautee the potatoes and onions with a pinch of za'atar or sumac and chopped garlic, and add a handful of parsley on top for a totally different vibe. Have fun with it!
SMOKY POTATO "NACHOS"
2 Tbsp butter
1 Tbsp olive oil
2 medium-sized potatoes, pricked with a fork and microwaved for 2 minutes on each side, until soft (flip and continue to cook for 1 minute increments if they aren't done). Let cool before slicing.
1/2 medium-sized onion, or 1 small onion
1/2 tsp smoked paprika
1/4 tsp cayenne pepper
1 tsp gochujang
1/2 tsp kosher salt, plus more to taste
generous pinch of black pepper
1/4 small kohlrabi, peeled and cut into matchsticks
1/4 cup chopped daikon kimchi
1/4 cup shredded cheddar cheese
3 Tbsp sour cream (or more to your preference)
1 Tbsp chopped scallions, green and white parts
Heat the butter and olive oil in a large pan over medium heat. (I use cast iron because it distributed heat evenly, and helps get the potatoes nice and crispy.)
Cut onion in half and slice each half into thin half-rounds. Cut potatoes into 1/2 inch rounds.
Add the onions to the pan and cook until soft and starting to caramelize, about ten minutes.
Add paprika, cayenne pepper, and gochujang, stirring to mix into onions.
Add the potato slices, season with salt and pepper, and stir gently to coat. Cook for 10 minutes, flipping potatoes until they start to brown on both sides.
Place kohlrabi slivers on a plate, top with potato-onion mixture and cheddar cheese. Microwave for 20 seconds until cheese starts to melt.
Top with chopped daikon kimchi, sour cream, and scallions.
Serves 1 hungry person, or 2 people if you're not super hungry.