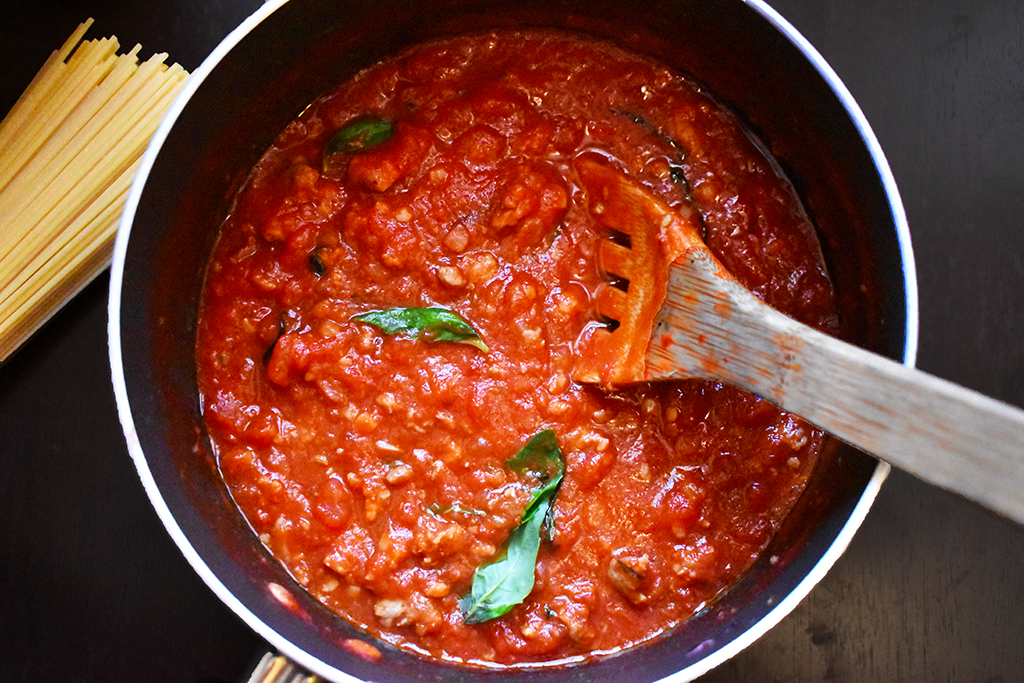 I've been craving "red sauce" Italian food lately: pasta dripping with red sauce, hearty meatballs, a nice cloud of grated parm on top, maybe a green lick of basil swirled in. Luckily, a pasta dinner is one of the easier cravings to satisfy (my other craving for restaurant-style chewy potstickers, not so much). And while you might agree as you reach for that jar of pre-made pasta sauce, stop and put down that Ragu! And yes, while the options on grocery store shelves have extended far beyond the sugar-laden, chef-Boyardee-esque options, I beg you to give homemade red sauce a chance: It's easy to make, cheaper than that jar of Rao's, and delicious. Plus, you can easily jazz it up: Remove the casing from some sausages and an easy ragu is at your fingertips (this is what I did in the photo), or throw in some capers, a few more cloves of garlic, and some olives and voila, puttanesca. Or just make the basic sauce and toss it with your favorite pasta for an easy, craving-feeding weeknight meal. 
MY RED SAUCE
Serves 3-4
Ingredients
1 small onion, finely chopped 
1 Tbsp EVO
2 cloves of garlic, grated on a microplane 
1 anchovy fillet
1 tsp red pepper flakes 
1 tsp oregano
1 Tbsp crushed peppers (optional, I just like the little bit of spice and vinegar it brings. Look for the Pastene brand) 
1 28 oz. can crushed tomatoes 
1/2 tsp sugar
1 tsp Kosher salt, plus more to taste
Splash red wine vinegar 
4 leaves basil, torn 
1 Tbsp butter 
Heat a sauce pan over medium heat. Add olive oil, onion, garlic, red pepper flakes, oregano and anchovy. Use a wooden spoon to stir and break up the anchovy. (If using sausage, remove skins and add the filling now, using the wooden spoon to break it up. Cook until browned before proceeding to the next step.)
Once the onions are translucent, add the can of crushed tomatoes, the crushed red peppers if using, sugar, salt, and red wine vinegar. 
Bring to a simmer over medium high heat, then reduce to medium and cook until warmed through, 5-10 minutes. 
Stir in the basil and butter. 
Serve over your favorite pasta with a grating of parm.