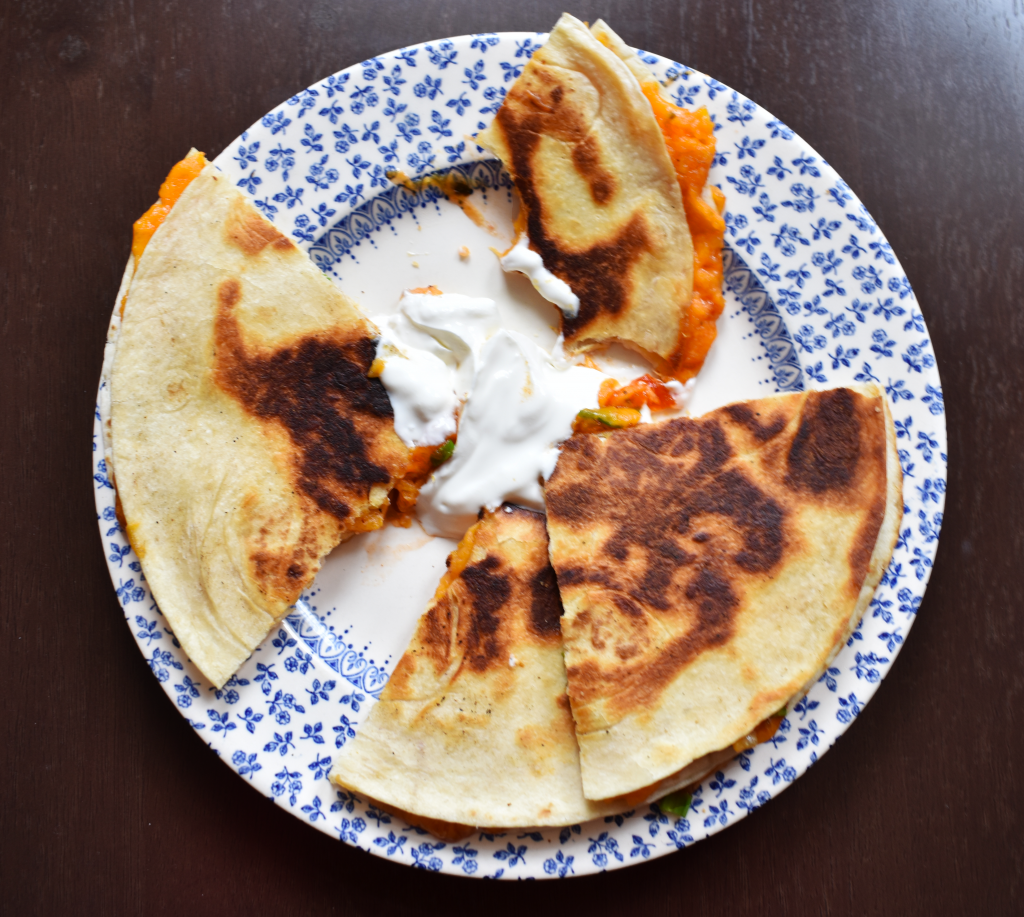 Cooking for two is freakin' hard. Even with my best efforts, we inevitably are stuck with leftovers that haunt the fridge, with one such leftover being mashed sweet potatoes. While first served lovingly alongside a piece of crispy-skinned salmon, it's darn hard to find the incentive to microwave and eat what's left. Enter the cure-all quesadilla. In the summer when zucchini is in abundance, I cook thinly sliced squash with onions down to a caramelized mush (and a dash of cumin and chili powder), then slather it between to tortillas, top with cheese and salsa, and bam, a delish summer 'dilla. Luckily, the options for stuffing your quesadilla don't end with summer. Mashed potatoes, sweet potatoes, and greens are all great stuffers, and are a great way to use unloved leftovers. (Brain blast: Take mashed potatoes , mix in shredded cheddar, and spread on a quesadilla. Top with thinly sliced scallions, and crumbled bacon, sear in a pan, and voila: loaded mashed potato quesadilla. Trashy, but everyone has one of those days). Or stick with a somewhat healthy sweet potato quesadilla; I admit it's sort of a non-recipe, but it's worth the inspiration if anything. 
Sweet Potato Quesadillas 
Serves 2
1 cup mashed sweet potatoes 
1 cup shredded cheddar cheese
4 Tbsp good salsa 
4 flour tortillas 
1 Tbsp neutral oil
Spread mashed sweet potatoes on two quesadillas. Top with cheddar and salsa, and remaining quesadillas. 
Heat oil in pan over medium heat. Cook quesadillas for about 2 minutes on each side, until crispy and browned, flipping once done. 
Use a pizza cutter to slice quesadillas into triangles, and serve with more salsa and sour cream.