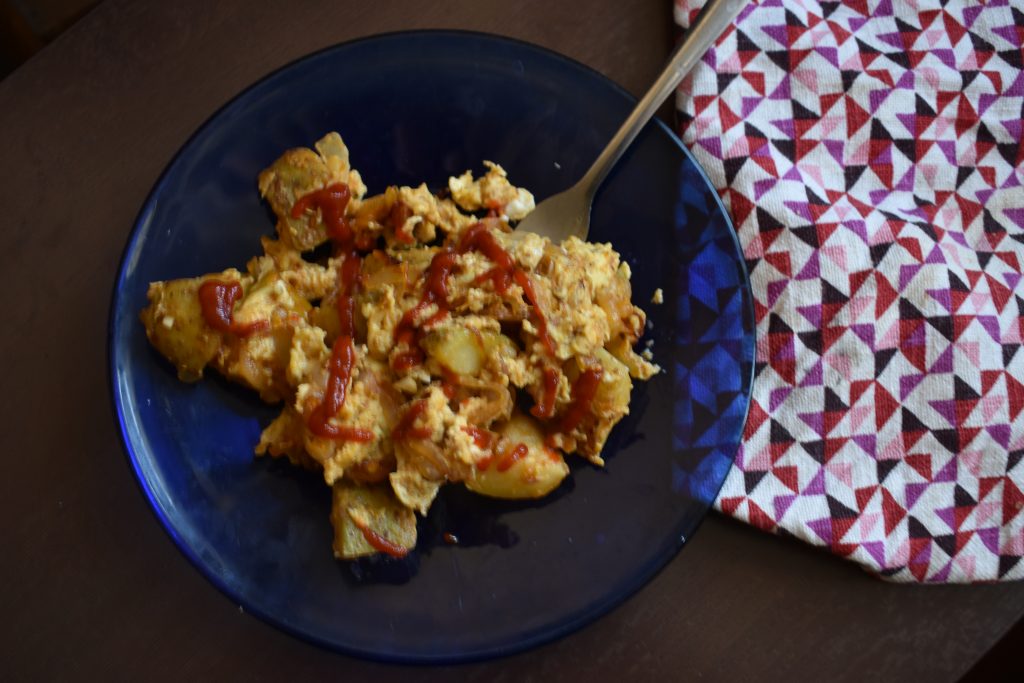 As an environmental reporter by day, I feel like I should practice what I preach, and in the case of food, that means cutting back on animal products. Enter my longtime morning staple: chourico-flavored potato scramble. It is like a messier, I-don't-have-time version of a tortilla Espanola. To amp up the flavor, I add smoked paprika, Hungarian hot paprika and the odd man out, celery salt, to give it the taste of Portuguese chourico without the meat. While this simple, hearty morning scramble does include eggs, feel free to substitute soft tofu for a vegan version.
2 eggs
1-2 small potatoes
1 small onion, cut in half then sliced thinly
1 tsp smoked paprika
1 tsp Hungarian hot paprika
1/2 tsp celery salt
2 Tbsp olive oil or butter
1 tsp salt
1 tsp pepper
Optional: Sriracha and chopped parsley for serving
Prick potatoes all over with a fork, then microwave for 2 minutes at a time, flipping, until cooked through. Carefully cut into 1-inch chunks.
Heat 1 Tbsp oil or butter in skillet over medium heat. Add onions and cook, stirring occasionally, until soft and translucent.
Add remaining 1 Tbsp oil or butter and potatoes. Cook, stirring occasionally, until potatoes start to get crispy on the sides. Season with salt, pepper, celery salt, Hungarian paprika and smoked paprika, and stir to combine.
Whisk the eggs in a separate bowl. Reduce the heat to medium-low, and add the eggs to the potato-onion mixture. Using a spatula, scramble the eggs until they are cooked to your liking (I prefer mine creamy).
Serve with a sprinkling of chopped parsley and a squirt of sriracha (optional).