In my family, the knobby clusters of creamy pink fruit scattered on thorny bushes near the ocean were always called beach plums. My brother and I would harvest them, a handful maybe, in the hopes of making jam. We never picked enough, and inevitably they would wind up shriveled and forgotten in some pocket or backpack.
Now I know that beach plums are an entirely different beast (and an elusive one, at that). But the humble beach flower and its fruit are just as glorious even in their abundance.
This summer, I started working at restaurants to get a grasp on food and hopefully bolster my resume enough to get a job in food media. While I have yet to accomplish this lofty goal, working in the restaurants has exposed me to many a new way of looking at ingredients. And one of these ingredients is the humble beach rose.
Its delicate petals only stick around for a short time, before fluttering to the ground with a strong salty breeze. At one restaurant, they picked the vibrant pink flowers and turned them into an oil, which they then served on oysters. Imagine walking on a briny, windswept beach dune and coming across a tangle of beach rose plants. You inhale deeply, and the brine mingles with the delicate rose blossom smell, an interplay of floral and savory, salty and sweet. This is what an oyster with a drop of rose oil tastes like.
I loved this, and wanted to harness the flavor of the beach roses that grow on the East Bay Bike Path, right across the street from my apartment. But I also realized that I wouldn't be gulping down oysters everyday, so a beach rose oil would prove pointless.
Instead, I found inspiration from another local restaurant, who served lilac lemon sorbet when the purple flowers hung heavy. While I don't have an ice cream maker to churn sorbet, I thought why not make beach rose lemonade? At this point I'd already been experimenting with lemonade flavors, from cucumber mint limeade to rhubarb lemonade.
So I trundled across the street, my eco-friendly grocery bags in tow, and stumbled onto old railroad tracks where the beach roses grow thick.
Cyclists and runners passed by, no doubt curious about the strange girl amongst the bushes.
After I picked a decent amount, I returned to my steamy apartment and blitzed half of the petals in a blender with some lemon juice. Mixed with simple syrup, more lemon juice and a splash of water, and my vibrant pink concoction was complete.
It was delicious (not to boast). Bright lemon played wonderfully against the floral rose, and served with a dash of Lillet and a few ice cubes, it was the taste of summer in a Saver's coupe glass.
BEACH ROSE LEMONADE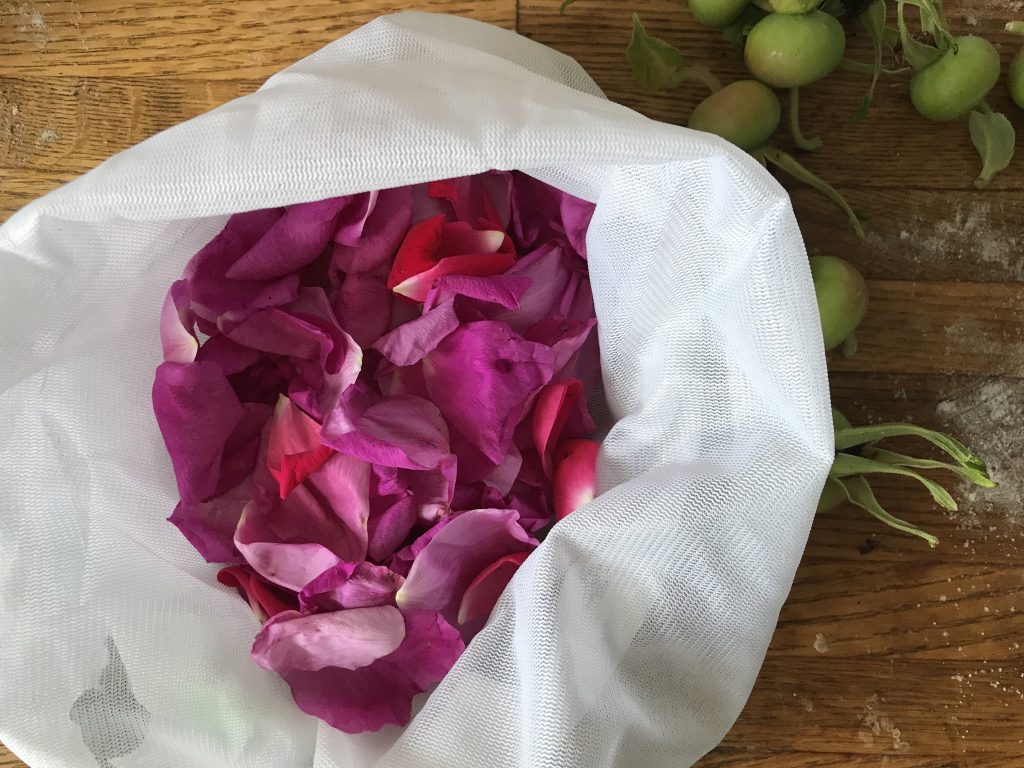 1 pint beach rose petals
Juice of 6 lemons or 10 limes
1/2 cup simple syrup, or more to taste
1/2 cup water, or leave strong and dilute with seltzer for a non-alcoholic treat
Blend the beach rose petals and the lemon juice in
a blender. Strain into a pitcher through a fine-mesh strainer or chinoise, add the simple syrup and water, and stir. Chill for 1 hour. Serve as is, with a splash of seltzer, or with 1.5 oz of Lillet.